MERRY GIFTMAS!!!
Oh jeez is Christmas exausting or what? When you are Santa and hosting the family feast at your house it is quite a chore. I love every minute of it though. I am, however, glad it's over. I have been feeling like crud, but this morning I woke up and was very, very sick. I am hacking up all sorts of shit.
I captured some great photos of the kids and family members that I feel the need to share with everybody. I know family and friends who read this to keep up on the daily ramblings and happenings that go on with us will enjoy these. Hope everyone else does to.
Santa was a sure full fat old man when he left the Adams residence. Mason left him cookies and a big glass of milk. Santa ate all the cookies except for the one that Mason took a bite off of and said he hoped Santa didn't eat that one because Santa needed to share with him.
Kacie and I on Christmas Eve at her house
Kacie's table setting for our wonderful lunch she made for everyone on Christmas Eve.
I just love this piece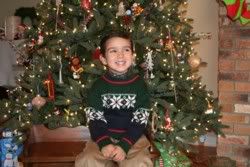 This is a few shots I got of the kids dressed in front of my tree.
melana's outfit had a super fabu pea coat that went with it with the fir around the sleeves and neck but she didn't want to wear it. I can't say I blame her. It was quite warm down here in the south. We had to run the air conditioning. Is that pitiful or what?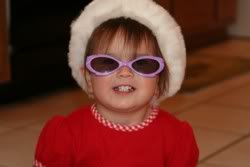 Melana needed to put on her "whipstick" before she could pose for anymore pictures. HMPH!! Wonder where she get's that from?
GOT MILK?
Donovan is the superhero of the family. He loves any superhero. Needless to say he opened this present and he could have cared less about anything else.
I sit back and wish I could go back to my child hood days where I still "believed".
Christmas has become so commercial. I have reflected on my childhood christmas's and want my children to have the same memories when they get older as I have from my mother and all she has done for me.
Well I have been posting now for 3 hours between catching up on post and uploading 250 pictures. I am "tarred". I have saved a draft of my New Orleans trip post but I am waiting on pics from
Elizabeth
. As soon as I get them I shall post that too.
Merry Christmas to all and all a Goodnight!
XOXOXO