Just Love me for who I am....
Ok peeps, everyone knows how I feel about O'Neil's jeep...It's a money hungry ho...well he proceeds to tell me that's his "hobby"..sheesh that's a might expensive hobby...but anyway, so last night we were laying in bed watching reruns of House M.D. when I take a peek at his laptop and I see this something or other on the screen, so I ask him what's that, he says a Clinometer. Here's the convo
Greta: What's that?
Oneil: A Clinometer
Greta: What is that?
ONeil: I'll show you (While laughing)
Greta: So i read what it is
Now , let me explain something to you ...O'Neil is a very, very particular person. He is a neat freak everything has to be perfect and shined and polished. He WILL NEVER, I repeat WILL NEVER take that Jeep off the road to get mud on it. For gawd sake's it sits in the garage all week and on the weekend he is washing it. AGAIN.
ok so anyway I read that this "clinometer is for something to do with the angle of lines..ok what the hell does that mean? Well he proceeds to tell me that it means blah blah blah...oh wait a minute I get it..you need this for all this "off roading " you are going to be doing. Folks...what am I missing...I know I have some guy readers so please clue me in...Ya see, O'Neil thinks he needed this new bumper (the old one was fine) then he tells me he NEEDS this winch...and I am like why so you can just look at it. He says no so I can look good.. Oh Okay!! So my freind Mike (who has a jeep also and takes his offroad) asked if he ever got stuck would O'Neil pull him out...Folks this was the answer...sure as long as I can get to you with my Jeep parked on the road....I kid you not!! That is exactly what he said....ok so see what I am telling you...
Well last night he smirks and giggles because he knows I am right about all this shit he NEEDS for his Jeep. So of course I am on a roll and he looks at me and says so mild mannered and says...Just love me for who I am....BWHAHAHAHAHAHAHHAA!! I love him he is sooo freaking funny...Who would I have to pick on if it wasn't for him and vice versa I am sure...
I sure did have to thank him and tell him oh buddy you've done it now...You have given me something to blog about. I've had nothing to talk about because I think we are all in a blogging rut and he just did it for me...
My freinds I leave you with the infamous picture of a Clinometer: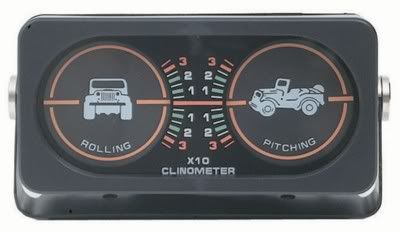 Now everyone can go away happier in life now knowing another piece of information I know you didn't know. Feel smarter..I know I sure do. That's just another useless piece of info I shall store up stairs in teh filing cabinet under misc...