*Ahem* Please tell me these aren't coming back!!
Okay so tonight I was chatting with Elizabeth via IM as if we don't chat enough by mail and on the phone all day long and she send me this...
God please tell me these aren't coming back...if they are I assure you I will have to be out of style this year. I hated this mess back then and it is no better now...Can you see me sporting these with a denim skirt and oversize shirt?
Yeah me either!!
For your viewing pleasure i present these fugly lace leggings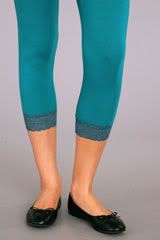 Go ahead get you some of these I dare you and make sure to get a picture in them and post for me so I can laugh my ass off at you... BWHAHAHAHA!!