Happy Birthday to Melana!!
Well Friday my baby girl turned 2...We decided to have her Birthday on Saturday. She wanted a Strawberry Shortcake Birthday. We had it at the park and it was such a pretty day. However I was sick as a dog. I caught this bug that everyone is having and of all day's to get it. It was all I could do to keep from throwing up and then to top it off the park no longer had bathrooms thanks to Hurricane Katrina. I woke up Saturday morning not knowing if I was truly going to be able to make her 2nd Birthday party. Of couse 2 hours before the party is when I really got sick and it was to late to cancel then. I did however pull myself together enough to go and the kids had a blast. We ordered pizza and had cake and drinks.
Thank you aunt K-K for making my cake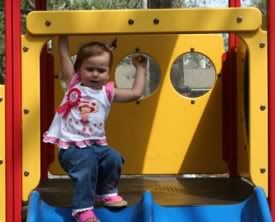 She thought she was going to walk down the slide but soon realized that wasn't a good idea.
Mason hard at play
Melana thought instead of helping open up her presents she would just sit in "Honey's" (that's what they call my mom) lap and watch.
Melana Elise 2 years old
This is Annie and her daddy Jamie. This is my best friend from all through school's little girl and hubby. Don't you just want to eat her up?
Here are the 3 Amigo's: Bella, Mason and Donovan. Don't they look thrilled to have to sit there and watch Melana open her presents? They wanted to go and play and we torchered them and made them sit still....hehehe
Melana got some really nice stuff for her birthday.
She received some really cute outfits, and some pj's and money, slong with toys and a baby stroller and carrier for her dolls. She also got some dress up clothes. It's a flapper outfit and it is the cutest thing on her. She also got a purse among a bunch of other things from her
Biz
. Once she opened that purse and that Whipstick that Biz bought her that was all she wrote. She didn't care about anything. She was not letting that purse out of site.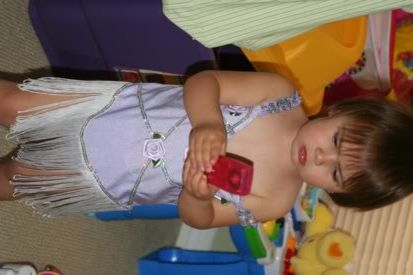 Melana and her cute flapper costume!!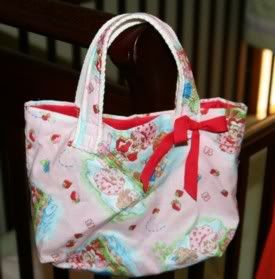 Melana's Strawberry Shortcake Purse Biz made her