Weekend Recap
Mason was sick on Thursday and Friday so he stayed out of school with Maw Maw. Saturday he was feeling much better so we took the kids to the St. Patty's Day parade with Elizabeth and her crew. We had a bunch of fun.
Mason and Bella patiently waiting for the parade to start
As we are sitting in the stands waiting we , of course, are people watching and what do we see coming down the street....
2 guys who thought they should be on the front cover of GQ or Esquire...may I tell you they were skank...It was like 40 degrees with the wind blowing like hell and they are walking with their shirts open and sleeves torn off...(the other guy you can't see) PUHLEEZZEEE!! We we impressed..can't you tell?
I will spare you with pics of the parade floats..not really important..however I will share some others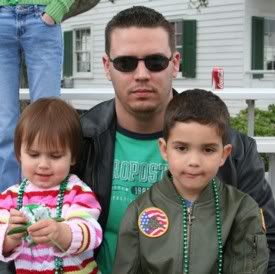 Can't you tell O'Neil is just sooo happy to be there? After all his years as a police officer he HATES and I mean HATES parades...Now that he is out of that career (thank god)I most of the time drag him with me as he is kicking and screaming, moaning and groaning...but he comes along like the good trooper he is....and it doesn't help he don't like his picture taken (but will ask me why he isn't on my blog) ughhhh hello that requires your picture taken ...DUH!! hehehe anyway
This is what I put up with on a daily basis..This is my "angel with attitude" I said "Melana say cheese" and this is what I got
She's such a little squirt!
She loves to have "pretty's" in her hair but the problem is she takes them right out and wants me to put them back in..well i get tired of playing that game so I figured I would put quite a few in and she will have something to do for a while....This is what I like to call my little angel with her horn holding up her halo...
Hope everyone had a great weekend and hopefully I will get back into the swing of things here soon...I just still am suffering from blogger blues...
BTW Wendi..I will get you sista...just don't know when...stay on your toes...hehehe that was funny as shit...
peace out, word to ya mutha, holla!! tee hehehe