Happy Mother's Day
Happy Mother's Day to me and all the other mother's out there who have awesome children.
Looky, Looky what I got...
The kids gave me the Chocolat DVD and O'Neil gave me the moolah!
He tells me it's to go towards the "Greta beautification fund"...What an ass...hehehe
I haven't decided whether I was going to spend it on nails and a pedicure or maybe some more
M-A-C
.
Since this pic was taken I have added about 6 lipsticks and liners, 3 more lipglass, and roughly 8 more shadows, 4 more eyeliners and shade sticks.
Hmm judging by the amount I already have in stock and the size of my make-up case I prolly should NOT buy anymore...BUT i LOVE it so much it just makes me smile thinking about all the great colors and liners that are out this summer....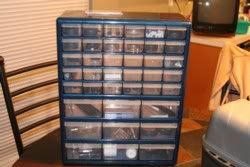 Every compartment is jammed up with it now that I have added even more to the collection.
See i have this obsession when it comes to make-up and not just any make-up it can only be M-A-C. I truly think I missed my calling as a make-up artist. I should have went for that...aggghhhh playing with brushes and color all day..that's my dream but for now I guess I shall do Human Resources. I wear all sorts of colors from the teal to black...it's all me...oh have you seen the new color waterproof liners that just got release..oh you didn't...well...well...lemme just show you...
They are so F-I-N-E on..i just can't stand myself..
oh sheesh enough already..sorry about the "rantin and ramen" of my love for color.
Anyway today we grilled a pork loin and had potatoes and corn...YUMMY..then O'Neil took the kids and I to see The Wild at the movies...it was cute..Suprisingly enough Melana was pretty good considering. See we found what works you buy a giant bag of popcorn and the biggest drink they sell for a gazillion dollars and you let her go to town. Next time we will buy her her own bag though because she doesn't like to share and ate damn near all of it and had nerve to want more...huh...
Hope everyone had a great mother's day until next time bloggers..
Peace out