Scrappin makes me happy
Well over the weekend I scrapped a page for a dear friend of mine who told me she was the proud grandparent of twins. Her oldest son had fraternal twins in August and she emailed me some pics so I decided I would scrap her a page so she could frame it if she wished. Occasionally I scrap her some pages of my kids. She used to be my daycare provider for Mason ever since he was born but her husband got transferred to Guam. That totally sucked. We still keep in contact on a regular basis and before she left I did her an 8X8 scrapbook of the kids. Here are a few that I scrapped for her as well for her book of the kids.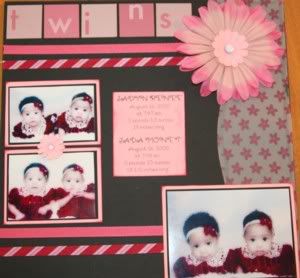 These are the beautiful twins.
Grrrrrrr.......my printer/scanner just went ka-poot....will scan the others at a later date
Tomorrow is hump day and I go to the orthodontist to see if he can once again fix my grill...hopefully he can just straighten them back out with a retainer.
See boys and girls when you lose your retainer in the trash can at mcdonald's because your stupid ass put it on your tray and forgot about it then you must repeat the process to have your grill fixed AGAIN!! Like I said I am hoping a retainer will do. There is this new treatment out where you wear this retainer for 2 weeks , then they mold another for 3 weeks and then the last one for another 2 weeks and BOOM you should be fixed up...so long as he don't tell me he has to lift my whole top jaw again...if he does I will be a grouchy (or as Melana says it grunchy) chick... after that I will have a permanant retainer put in.
SURE WILL
!! No more dumpster diving in nasty trash for a retainer.
On Friday O'Neil gets his braces off....YAY! Now maybe he will smile like a normal human being from here on out instead of that cheesy half crooked, don't want to show the teeth smile he is always doing.
Oh well nothing new in the world of the Adams Family
Peace out and have a great Hump Day