weekend recap
Saturday night we went to a friend of mine's 30th birthday party...it was a blast it was just ashame i went off and forgot my camera (gasp!! can you believe it? me either)it was disappointing to because i would have had some great pictures.
we were in the country so everyone had brought their 4 wheelers and was tearing it up. one of the guys wives decided she was jealous so she cranked up the john deere lawn mower and was out there with everyone on the 4 wheelers...we rolled.
then some dude had a pimped out little truck with a dance floor on the back and a stripper pole in the middle...yes you read right a stripper pole. ugh that was hysterical watching a bunch of drunk girls flinging around on this stripper pole.
some big fat guy who i don't know was wearing a shirt that said "I beat anorexia" that was picture worthy also but hey no camera.
and last but not least from saturday night we went dusting..yes that's right dusting..in the jeep. we couldn't call it mudding cause god knows that would never happen so we got out there like a bunch of rednecks with everyone on the 4 wheelers and was acting a fool in the jeep tearing up the ground...it was a blast. now if i can talk oneil into taking me mud riding that would be the bomb but that would and will never happen. RAT BASTARD!!
sunday we went to breakfast and took the kids to the local fair to ride some rides..that was a blast and this time i didn't forget the camera.
What the hell is up with those fair people that operate the rides? gosh they are terrible looking? Why? why must you be that nasty? I just don't get it..soap and water is cheap.
So here are a few pics I got: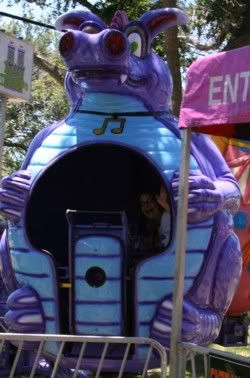 Mason and I riding the dragon ride
Mason and Melana riding Choctaw and Cherokee
(that was the horses names) with daddy
another shot
Motorcycle Mason...he obviously thought he was riding a crotch rocket!
Melana was on it but it was to bumpy and she started screaming and wanted off.
This one they were driving an old Mustang
That's for you Sharon!
Mason on the swing...it goes out the faster it goes...he loved it and i was shocked I thought for sure he would want off but he didn't he actually wanted to ride it again.
Hope everyone had a great weekend we sure did!!