Birthday Present from E
This is what I received from
Elizabeth
on Saturday. I was sooooo excited to get it. This is something I will treasure forever. It's the things that are made for me that mean the most and I will be forever greatful that she took the time to do this for me.
Thank you so much!!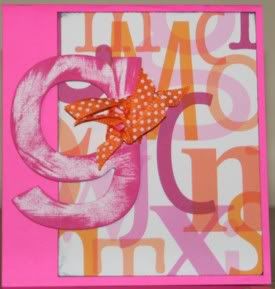 My card
The Cover
The story of us and how we became friends.
You can read more
here
Cat's Meow in New Orleans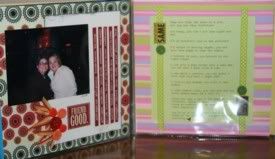 Pat O's in New Orleans
Party Hearty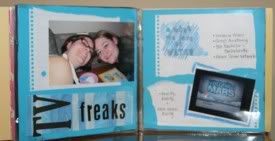 Our most favorite show that we just CANNOT wait to come back on
we are the funniest with our "self portraits"
Scrap Happy...the pic on the right side at the bottom is the day before my surgery. We didn't know how I was going to be so we thought we would squeeze in some scrap time just in case I felt horrible (which I didn't) scrapping the same week. Day after as a matter of fact.
We are game junkies as well
I just love it, love it, love it!!
Also, I would like to thank
Laura
for the birthday card in the mail. That was very sweet and thoughful.
This weekend I managed to do some sewing for a friend's baby shower on Saturday. I sewed Saturday morning. Nothing like waiting until the last minute.
I belted out 3 hooded towels and 4 burp cloths.
I forgot to take a picture of the burp cloths but for you viewing pleasure I did manage to take some of the towels. I am thinking about selling them in my etsy shop.
Full view of the towel.
Close up of the back.
I did 3 of them. I do them different ways. Sometimes I put ribbon on them, sometimes i will use printed towels and sometimes I just sew cute things on them. Just depends on how I feel.
After the shower was over Elizabeth and I were itching to take our "self portrait" like we do everywhere we go together. You now there was 50 people standing around that could have taken our pic but know we were holding the massive rebel up trying to do it ourselves and this is what we got. hehehehehe
I guess we should have zoomed out but hey we liked it!!
Happy Monday!!