Goodbye Flat Mike
(He's really Flat Stanley but Ryan changed his name)
Peek-a-boo I see you
Dear Flat Mike,
Oh how you have been so much fun to take around and act silly with. You never once back talked (which i like) and you were always willing to go where I wanted to go. You never complained about going to the M-A-C counter and helping me pick out colors. As if I needed more. (44 shadows to date) You have been so much fun and I sure enjoyed your short time with me. I know we received some silly and strange looks from some of the people here but they soon got over it as we gave them dirty looks right back.
Here are some of the pics for your viewing pleasure.
On our way to work bright and early in the am
at lunch we went and took a ride down the beach and got our feet wet and played in the sand but not before we went to the.....drum roll please.....
yep you guessed it...the M-A-C counter.
Then we stopped and he took a gander at all the shrimp boats in the harbor and so we posed for a fresh pic on this sign
We visited the hurricane Katrina memorial and some of the homes on the beach that were destroyed as a result of that hefer.
All in all I'd say we had a great time. We also did other things but we did way to much to post all here. Hope to see you soon buddy!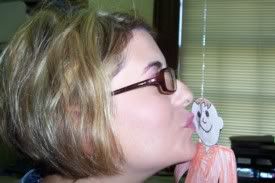 Bye -Bye
Okay so all of you don't think I have flipped my lid. Flat Stanley is a school project to help kids with geography and learning about other places. I was fortunate enough to be able to host him for a short week for V's little one. Ryan I hope you enjoy!!