Sewing...Sewing...GONE!!
This past week I have been working on some burp cloths and hooded towels for a friend of mine, Misty, to give as a baby shower gift and some for her. She came over tonight to get them. It was good to see her because it's been about 5 years or so since I have seen her. We sat around like two old bitches and gossiped while the kids ran around and played. Now that we have each other's phone numbers we can keep in touch and get together and let the kids play.
Here are just a few that I made for her:
This one has the ribbon going down both sides where they meet together when you close the towel and I also did one with just the blue polka dot ribbon that went around the hood part. They turned out so stinkin cute.
First let me say sorry about the pic I didn't realize it turned out so blurry, but you can see it well enough to know. They turned out really really cute also if I do say so myself.
This one is a light blue towel similiar to the one I made her the only difference is the design on the back was still police just different picture.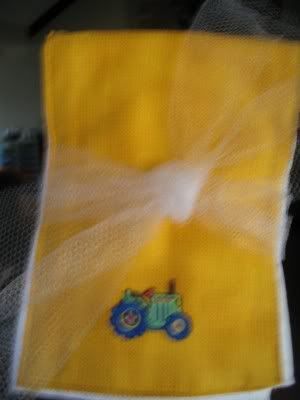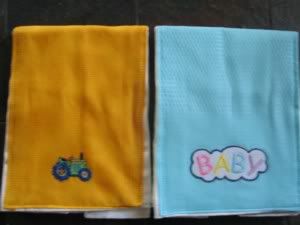 Thanks girl for the business and drum me up some more would ya. I am just itching to do some girl towels and burp cloths.
Hope everyone has a great 4th of July weekend and be safe.