Thank you everyone!!
I just would like to thank everyone who wished me a happy birthday. You gals and dudes rock. Thanks to everyone who left me some pea love. That was fantastic and all the tags are simply wonderful and I can't wait to get them and feel them up and caress then and hold them....bwhahahahah!!
I woke up to this on my front door from the awesome Veronica...thank you again girl..love it!!
My card...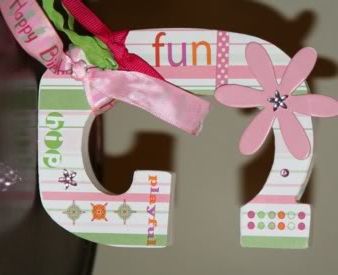 My altered wooden G...isn't that great and it's my favorite colors!!
Frame with my babies in it... Mason's
Sassy Frass Princess Melana's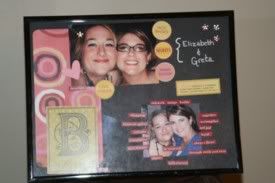 My best buddie in the whole wide world...the fabulous Elizabeth and I.....
Again V thank you so much that was very sweet and thoughtful of you!!
Okay so.... wondering what I did for my birfday? Well let me just tell ya!
I WENT SHOPPING!!
I know that is quite shocking to y'all but hey somebody has to do it....right??
mm-kay...for starters I got up at the ass crack of dawn to get my kids off to daycare and the momster and I were headed to Mobile to take the beloved Honda in to have the XM Satellite radio stuff installed. Appointment for 8:30 am and it's an hour drive away. Okay so I get there, the chick says it's going to take 5 hours....so she tells me that they have a guy who will drive us anywhere in Mobile and drop us off and when we are ready we call and he'll be right there to get us.
Okay not so bad....wrong....6 hours later we are still at the mall and sista here is broke as a joke..no shit when i say broke..i couldn't even scrounge up 50 cents for a coke..so I call the chick says weellll it's going to be a little longer because we had to take your whole car apart in the inside from the front all the way to the trunk....WHAT?? okay so now I am a little frustrated. I knew it was detailed and a tedious process but to take the whole freaking inside apart...okay so...we walk around a little more and then the guy was there to pick us up at 2:30...great just a little longer we can go home....so I thought...
WRONG
!! sit at the dealership for another 3 hours...yes I was pissed....what should have taken 5 hours took 9 hours....I was sure doing some huffin and puffin in that place. So yep that was my exciting birthday.
I did however enjoy the radio on the way home...I was seriously jammin to some 80's music....
Thanks again for the wishes and you can check out all my cool tags everyone made
here
.