Welcome Flat "Mike"
I received Flat Mike in the mail on Saturday from V. He is a project that Ryan has to do for school. He is a cute little fella sent here to visit us for a week. He's actually a flat Stanley but his name was changed. So far Mike has been to work with me (which I don't have a pic of yet) he has been in my car and around the town. Will have to get more pics. I keep forgeting the dog gone camera.
Last weekend we went to a housewarming party for some friends of our's that Oneil use to work with at the sheriff's dept. I made a card and put a Home Depot gift card in it.
I made a pocket in the inside for the card to fit in.
Here is O'Neil and I sipping a few beers at the get together.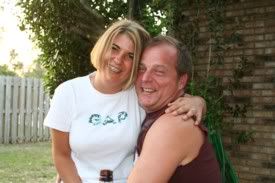 and this is our best buddy Walter and I. We never have any pics of the 2 of us so I thought this the perfect opportunity to get one. See usually when we are all together it's partying and well...drunk greta forgets to take the camera or if I do I forget to bring it out until I am smashed and then the pics all come out blurry and off centered and crazy so here we are sober (for now) hehehehe
Saturday mom and I went furniture shopping and found her living room and dining room set. I sure wish I had a pic of it. I'll have to remember the camera when we go back to show you. It is so fine...love it!
That night we put the kids to bed early and was planning on having a productive scrap night....uggghhh nope didn't happen. I got one page done and it wasn't even a big page. It was one for the mini album I have done for a dear friend of mine who is in Guam. I just didn't have the mojo kickin and I don't know why.
A is for attitude. (Boy does she have it)
Sunday we did nothing but eat and nap. I cooked a delicious cajun turkey breast and the kids played in their mini pool. All in all it was a lzy lazy weekend which I really needed.
That's about all for now. I have a headache the size of Texas and I must go lay down before i barf.
xoxoxox