Happy 4th of July!!
This weekend was a busy one. We took the kids on Sunday to the crab fest in Bay St. Louis and walked around and let the kids ride what few rides they had. I never would have thought that Mason would have been my child who would do these sorts of things. He is normally scared of everything. He suprised me once again. While walking around he spotted the ferris wheel and wanted to ride it so I got on with him. He did pretty good until it got going really fast then he freaked out a little bit and put his head in my lap. Of course mama couldn't show fear because then he would shit his pants just like I was about to do.
(NOTE TO SELF: DON NOT RIDE A FERRIS WHEEL THAT IS 50 YEARS OLD AND IS RUSTED TO HELL AND BACK AND CREEKS LIKE THERE IS NO TOMORROW!!)
So I was waiting for this ride to end praying to god we made it off alive. Everytime we would get to the bottom the really cool guy who was running it was making sure Mason was ok..the problem with that was I said he's fine so he thought he would crank it up another notch. Holy shit where was my depends because I was going to need it in just a few minutes if he kept that up. Finally the ride was over. Wheww!! I do not think Mason will get back on the ferris wheel but we will see.
Then we rode the tilt -o-whirl. That seems to be a big hit with both the kids.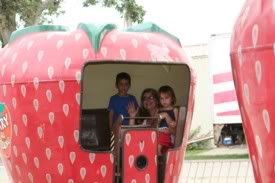 Although by the look on their faces they weren't that impressed but truly they were.
Next Mason had to get on the wings. This is his favorite ride.
He would have rode this over and over if we would have let him.
Then he informs me that he wanted to ride the one that looks like your hang gliding. He was disappointed when we told him he was to small. They had people on that thing looking like any minute they were going to shit or throw up...who knows which one. It looked fun to me but I knew O'Neil wouldn't ride it and who wants to ride by themselves. After we spent an ass load of money on frozen hamburgers we decided to head for my mom's to spend the rest of the day.
Fastforward to today:
Today we spent most of the day in the swimming pool at Jody's house and grilled. We bought Bingo for the pool. It comes with chips and yu drop them in the pool and have to dive and get them and come back to the board and put them in it and see who can get bingo first. That was a hoot.
I do believe this is the game i whipped Oneil's ass (just by the skin of my teeth) then he decided the next hand the would go down and get all the green chips and come back and get Bing. I think that constitutes cheating but he states otherwise. He calls it improvising. I think he is full of shit myself.
Here are just a few random shot of the kids:
This was my first bikini when I was little. It is still big on Melana but I wanted to get a few pics so I can scrap me and her side by side in the same swim suit. It has seen better days but still looks pretty good considering it is 20 something years old.
He makes the ugliest faces when he doesn't want his picture taken!
She will ham it up for me but refuses to smile or ham up anything if it's a professional photographer (refer to banner) she will look at them like they ae stupid.
Here is jody and O'Neil while he is burning the hamburgers on the grill.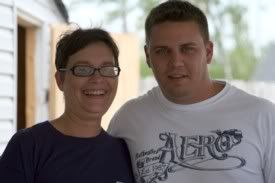 When i tell you the hamburgers were on fire i am not lying and I have the pictures to prove it.
We think that because the grill is always being used that the grease has managed to over take everything which makes the grill catch on fire because it didn't matter if it was on high or low the shit was still on fire.
Then it would smoke like the dickens.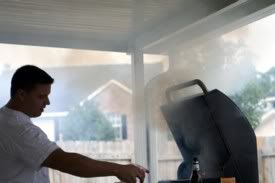 O'Neil managed to put it out and it would come right back we thought we were going to have to call the
there for a minute. hehehe!
We aren't allowed to pop or shoot fireworks becaus eof all the dryness we have had not to mention still all the debris left from Katrina to catch on fire and burn what's left that Katrina didn't take.
That's okay by me. I hate spending money on that crap. I just assume light a dollar bill and watch it burn.
Hope everyone had a great 4th and it's back to the ole grind tomorrow!!